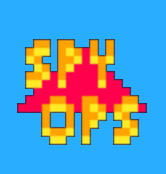 if controls don't work for you click the grey area near the game window
CONTROLS:
All controls are shown to you in the game.

OVERVIEW
A spy game inspired by Metal Gear on NES. Get 3 important documents and escape before the enemy sees you!
Made for Tiny-TV Jam.
TINYTVJAM ENTRY PAGE:
Tiny-TV Jam was a jam where you were tasked to make a game for a 10x11 (or smaller) reskinnable TV.
Click here
(CC) 2017 Adrian Makes Games. Made with love for Tiny-TV Jam. Music borrowed from Metal Gear, covered by me.
Download
Click download now to get access to the following files:
Pico-8 cart (*.p8 - easy code editing)
49 kB
Pico-8 cart (*.png - for play on Pico-8)
18 kB