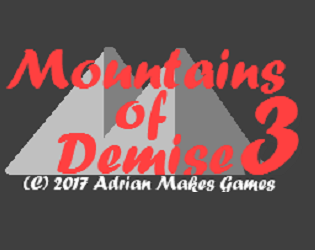 Mountains of Demise 3
A downloadable game for Windows
EXPERIENCE THE THRILLING CONCLUSION TO THE MOUNTAINS OF DEMISE TRILOGY!
4 years ago, a boy climbed the Mountain of Demise to rescue Princess Lilianna.
2 years ago, the same boy climbed the Mountain of Another Demise to save the world
from Cyberdemons, but let's not care about that, that's a story for an other game.
Now, Princess Lilianna has been kidnapped and hung on a tree by the King of Demons.
You need to rescue her from that tree and save the world for the last time.
Controls:
Left arrow/Right arrow - move in the desired direction
Tips:
Player will climb automatically when pressing Left/Right in the direction of the wall.
Player will also automatically climb vines.
Avoid fireballs - they will kill you.
v1.2 - replaced movement to be more like Mountains of Demise II because people wanted it like that (and it's better), added moving along with the moving vines to make climbing them easier

(C) 2017 Adrian Makes Games.

Download
Click download now to get access to the following files:
Mountains of Demise 3
12 MB