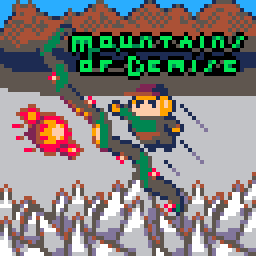 if the game doesn't react to your input, click the gray area near the embed.
Controls:
Left and Right - move, climb the wall
X - start the game

---
First, a little backstory. Before I made stuff like The Mini-Man, I've tried to make a game about climbing a mountain. A simple platformer. Nothing special. At least the 2009 version wasn't special. The 2010 version had a poorly implemented climbing mechanic. In 2012, when Mega Mountain was released, I've decided to clone that game and wrote the more important stuff in the original design doc. Now I've remade the game and it plays like it was supposed to play. You climb a mountain to rescue your girl (yeah, pretty simple plot...), avoid fireballs and spikes and climb vines. Have fun! Some screenshots from the original 2009 and 2010 versions.
Version 1.2:
- Changed the climbing mechanics to be more like Mountains of Demise II
- Fixed the most unfair sections
(CC) 2009, 2010, 2016 Adrian Makes Games. Made with Pico-8 and some love. Awesome boxart by @CFKaligula/@CasperKole.
Download
Click download now to get access to the following files: