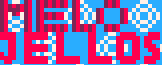 if the embed isn't working, click on the grey area around the embed
Melo-Jellos
A CREATIVE MIX
Play a creative mix of Famicom Puyo Puyo and another Famicom hit Palamedes.
The game links both games. Pieces drop like Puyo Puyo but you must match the colors and delete the lines like Palamedes.
HOW TO PLAY
Drop jellies onto other jellies with the same color. The 2 jellies will disappear. If you do a combo, you can delete the number of lines shown in the "LINE" field by pressing up. You gain a level every 50 gems.
FEATURES
A fun puzzle game
Mix of two puzzle games
Fun for long hours
CONTROLS
Arrows/D-Pad - move the piece
Up arrow/Up on D-Pad - delete lines
Z/Cross - twist the piece anti-clockwise
X/Circle - twist the piece clockwise, start the game, restart after game over
CREDITS
A game by adrian09_01, made with love based on an idea by Ice Princess/JP Ronny from Pirated Games Central.


Download
Click download now to get access to the following files: